The Easiest Tutorial to make your own Shiplap Fireplace
Turn a boring wall into a gorgeous fireplace centerpiece with Ana White's easy shiplap fireplace tutorial using an electric fireplace insert.  Get that cozy feeling in your living room, all for about $550! Free step by step plans with video, diagrams, shopping list – everything you need to make it happen.
Why a Fireplace Accent Wall?
We love a fireplace accent wall – it can turn a boring room into a cozy, gorgeous space as the focal point of the room. It is the perfect addition to make your home more valuable and beautiful.
HIDE TV CORDS: The fireplace wall can integrate a tv, and it can hide ugly cords inside.
LESS CLEANING: A fireplace wall is contained, so you never have to dust or vacuum behind or under it.
ARCHITECTURAL ELEMENT: It's also a great way to add an architectural feature to a room that can create interesting spaces and nooks in an otherwise boring room.
MAKES ROOM LOOK TALLER: The floor to ceiling design adds a vertical strip to a living room, making your space appear taller.
CHRISTMAS: If for no other reason, build the fireplace accent wall so you have somewhere to hang stockings and a mantle to decorate for Christmas.
SPACE SAVING DESIGN: Yes, you read that right, because this piece is attached to the wall, it actually takes up less space than a similar sized tv console.  
SHIPLAP WITHOUT A FULL REMODEL: Love shiplap walls but don't want to remodel an entire room?  Adding a shiplap fireplace is an easy way to add shiplap to your room.
ADD VALUE TO YOUR HOME: A stylish fireplace can add between $1000 and $5000 to the value of your home.
But I Need Storage
With today's technology, do you need all that storage?  Back in the days of DVDs and big controller boxes, that was a thing.  But not anymore!  I'd argue that having less storage opportunities is helping keep the clutter down.  What would you store in there?
If you really need storage, consider built-ins with shelves on either side of the fireplace.  Or a storage coffee table.  
Why an Electric Fireplace Insert?
Just plug and enjoy! Electric fireplace inserts are convenient, inexpensive, easy to install, and super beautiful.  Many require no clearances, and only need a simple plugin.  
Other options like wood burning or gas fireplaces may need venting, gas lines, clearances to non combustibles, and more.  Gas or wood burning insert can also be expensive, heavy and difficult to install.
More Shiplap Fireplace Ideas
If you want more than just a white shiplap fireplace, consider these ideas:
VERTICAL SHIPLAP: Install the shiplap vertical for an even more exaggerated room height look, and a more modern feel.  You may need to add blocking in some places to nail off the shiplap though – this framing is optimized for horizontal run shiplap.
BLACK SHIPLAP FIREPLACE: We love this painted black because it turns it into a modern shiplap fireplace, all while blending with a black TV and fireplace insert, with no extra work.  Want drama?  Bring on the moody paint.
GRAYS, GREIGES, CREAMS – With a white wall, any of these colors will be beautiful ways to accent your shiplap fireplace.
Can I Use Other Materials Instead of Shiplap? 
This tutorial uses shiplap because it's easy to work with, inexpensive, and adds texture to the space, and many people love the country farmhouse vibe. But you can use lots of other materials and methods of installation to achieve just about any look you can envision.
DRYWALL: This fireplace can be drywalled for the ultimate clean look.
MODERN PANELING: Try covering the 2×4 framing with smooth panels, then using the trim to create the interesting look.
BRICK OR STONE: Yes, you can.  Instead of shiplap, cover in Durock or similar, and spread the mortar.  We especially love a white brick or whitewashed brick, or marble tiles.
RECLAIMED WOOD, WOOD PLANKS: Yep, all possible.  If the planks don't have a tongue and groove, you may want to cover in plywood first, and then nail the planks to the the plywood.  It will all depend on the materials you are using.
Cost Breakdown for a my Fireplace Bump Out
This fireplace was very affordable!  I was surprised. The total cost was about $550
Wood framing, shiplap and trim: $300
Electric fireplace insert: $186
Mantle: $20
Paint, fasteners, sandpaper, wood filler etc: $50
Video Tutorial for Building this Fireplace Bump Out
Before you build, make sure you watch the build video.  It shows the entire process, and a few tips and tricks along the way to help out.
Basic Steps to Build a Shiplap Fireplace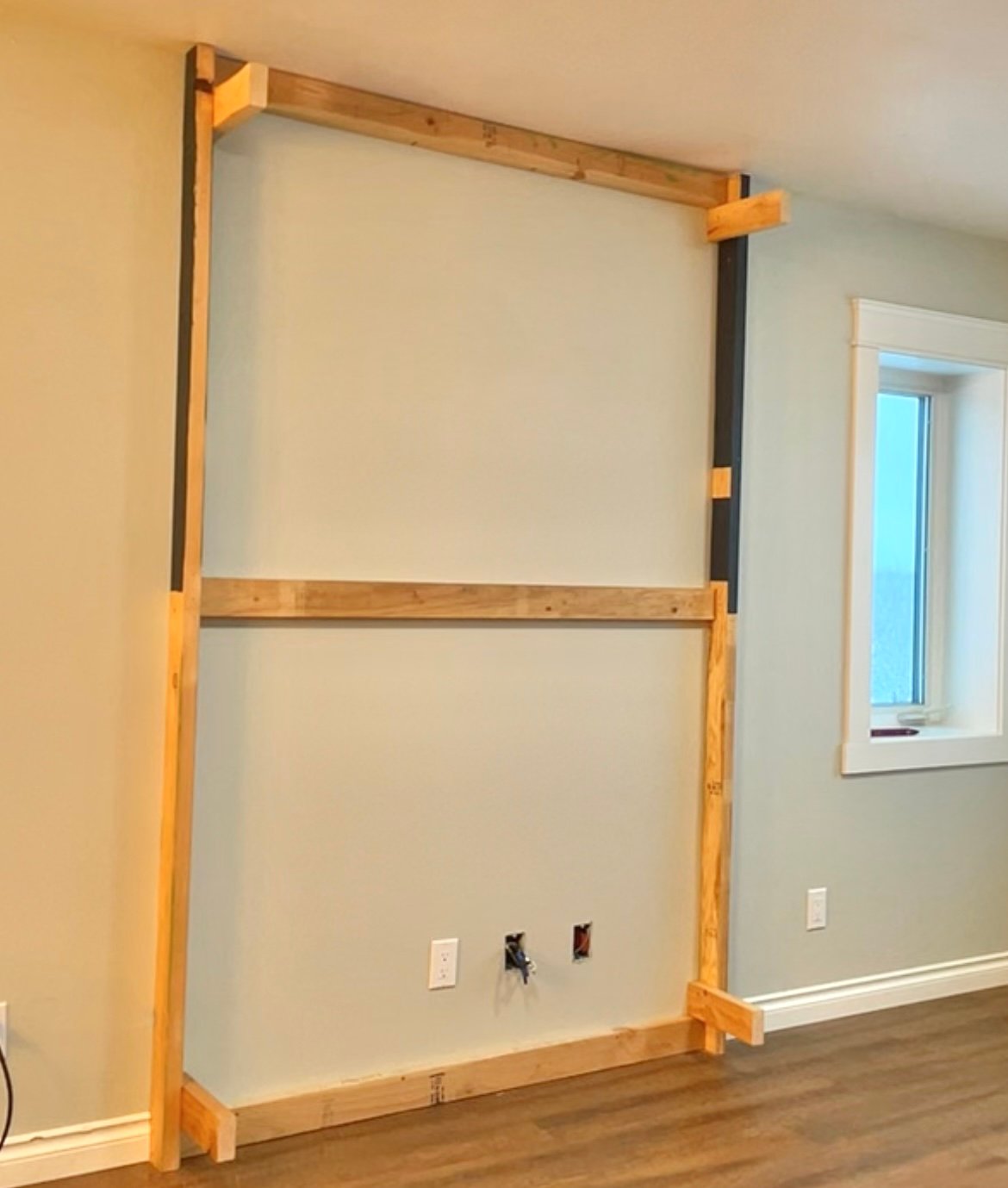 Simple 2×4 back frame, attached to studs in the wall

Front 2×4 frame, with fireplace insert framing integrated

Cover 2×4 frames with shiplap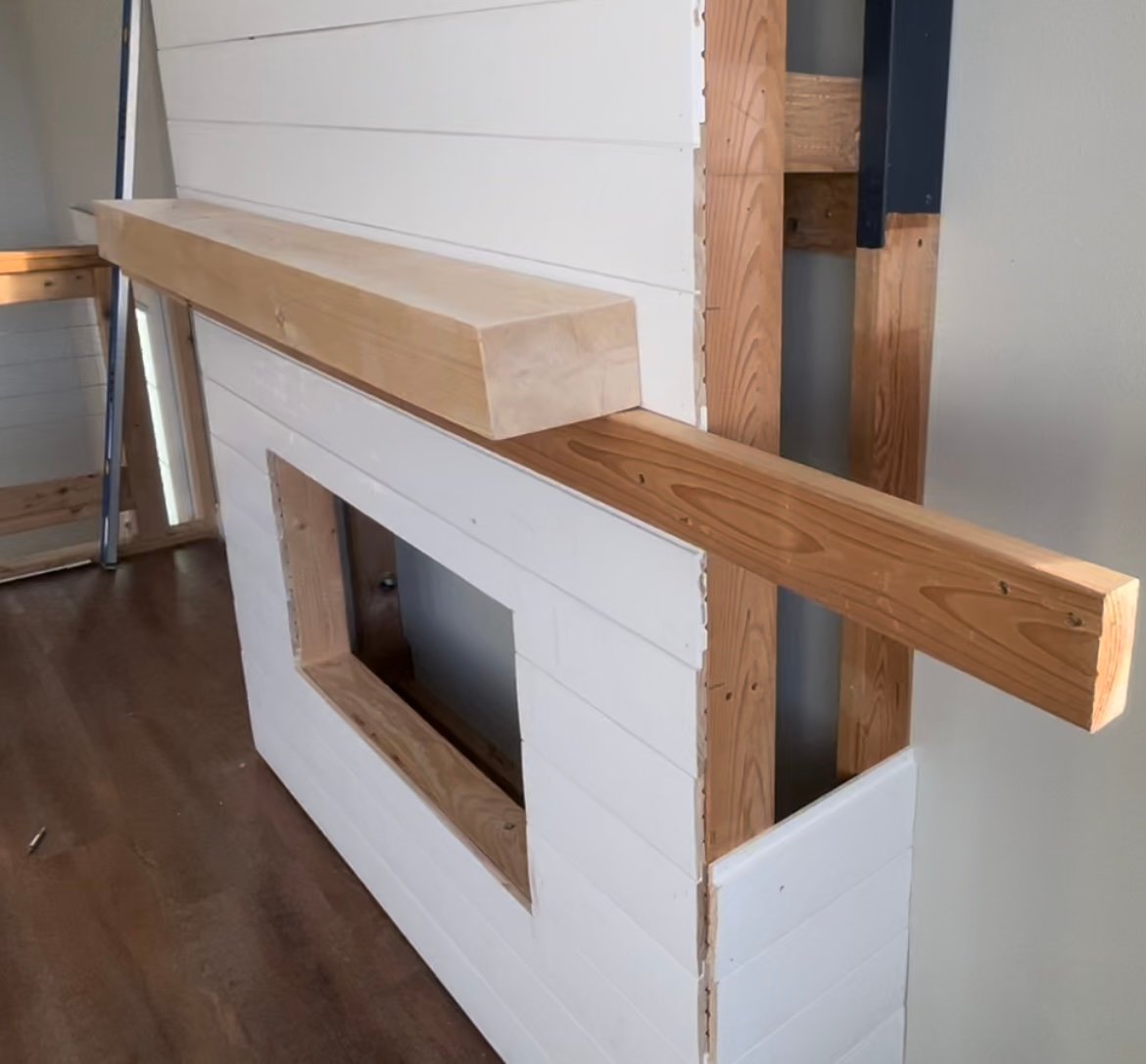 Attach wood beam from inside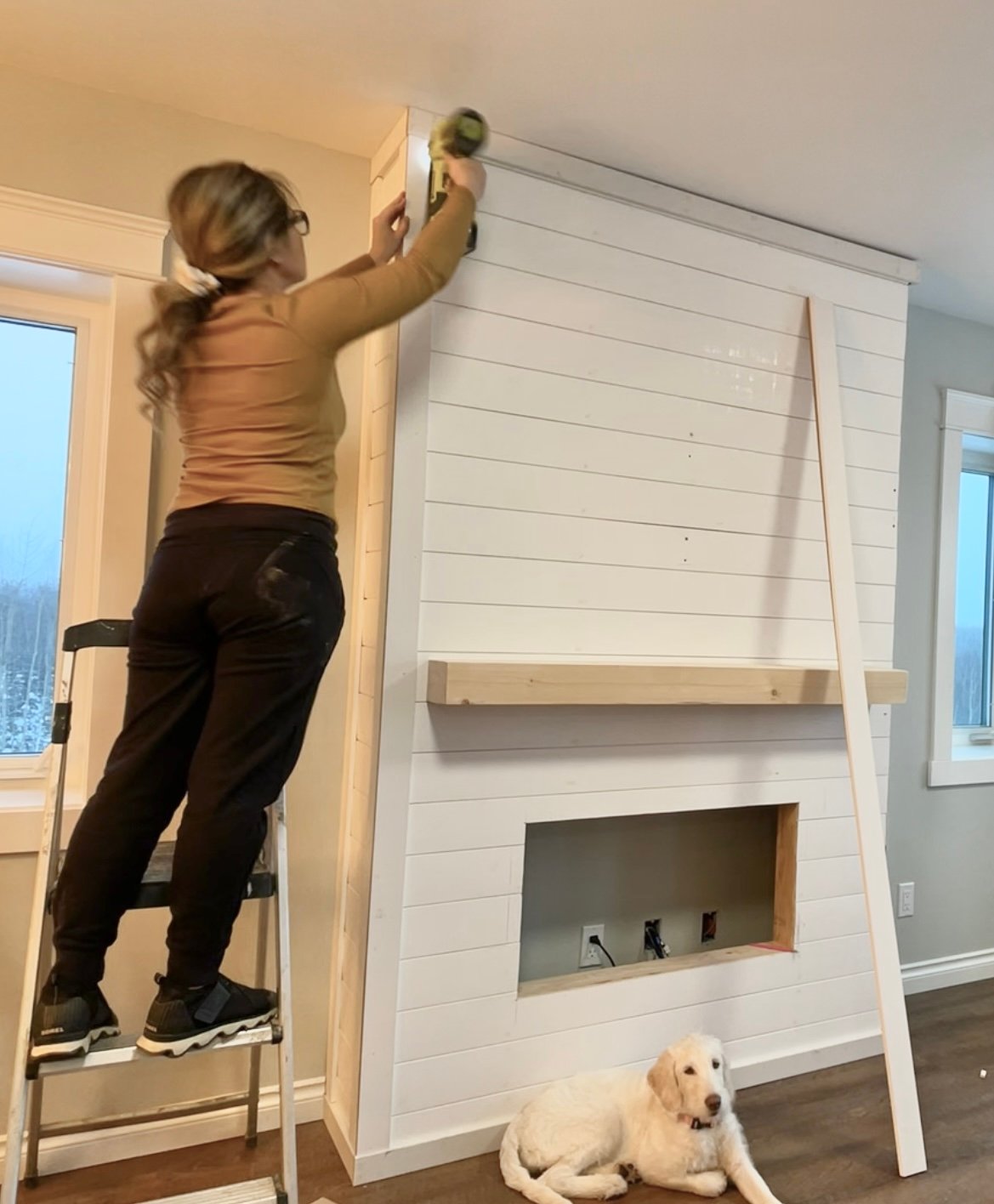 Finish the Shiplap and trim top, bottom and corners
Electrical Considerations
Before beginning this project, make sure you have necessary electrical available.  Our tv cord barely reached the outlet, and the fireplace insert needs power as well.  The fireplace insert may need a dedicated circuit, depending on the model. Consult with an electrician.
Free Plans for Building Your Own Shiplap Fireplace